Posted by Rebecca Kneen on
High-tech solutions to climate chaos and the resulting famines are all the rage. But do they make any sense? Vertical "farming", algae and yeast production, globalized production and distribution chains all depend on high-tech management and endless energy supplies, not to mention distribution mechanisms that can withstand tornadoes and other weather disruption. In other words, more of what we already have that is proven not to work.
There are options, though they are dismissed by the proponents of disutoptian technology as simply "arcadian fantasies". Apparently only continuing on the road we currently travel is realistic, however awful the outcome. These options involve reducing our footprint on the world. Reducing energy use, eating seasonally, learning to grow food in smaller plots (from tiny urban balcony gardens or rooftops on up), reducing our dependence on globally supplied staple crops, and saving our farmland and water for food growing instead of housing/highways/golf courses.
But these options demand a paradigm shift towards keeping food, housing and water out of the profit economy. The resulting loss of profit for the few keeps the idea from being discussed at all. But we have to. Please read on, and please keep this discussion going.
---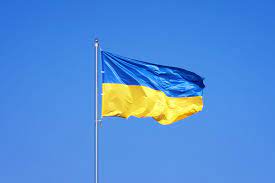 Posted by Rebecca Kneen on
We in the west seem to have been taken by surprise by Russia's terrible invasion of the Ukraine - but we shouldn't have been.  For one thing, we've been underserved by media who have been obsessed by Covid and who have elevated local acts of selfishness to news, to the exclusion of everything else happening in the world. For another, we have once again ignored history. In the short term, we've forgotten that Trump spent four years emotionally propping up Putin as a leader, while sending increasing military aid to Ukraine, in a transparent effort to create conflict. We have...
---
Posted by Rebecca Kneen on
This week (November 11) we Canadians are asked to wear a poppy to remember those who fought and died in WWI, along with all other veterans. For many of us, this is both a very important remembrance, and a time of conflicting emotions. For us, there are many more to remember, and the wars are not over.    Across the world today, there are wars raging. Canadian forces are present as peacekeepers - or absent. We are not living in a time of peace, except within our own borders. Many of those who are dying now are not combatants, not...